B06 Pro Bluetooth HiFi Receiver
1mii B06pro long distance Bluetooth receiver, HiFi wireless audio adapter, Bluetooth 5.0 receiver with 3D surround aptx low delay optical RCA aux 3.5mm coaxial for a home stereo system.
Features
Dual Antennas&Long Range
1Mii B06 Pro Long Range Bluetooth receiver can achieve a range of up to 197ft (60m) line-of-sight in the open air and up to 50-70ft (20-30m) indoors(without obstacles).
Aptx Low Latency&3D Audio
1Mii B06 Pro Bluetooth adapter also supports apt-X and apt-X Low Latency (apt-X-LL). And the 3D audio can be switched on or off by pressing the "3D" button on the Bluetooth audio receiver. The green LED will be on when switched to 3D audio.
Volume & Track Adjustment
Press the volume button on the 1Mii B06 Pro Bluetooth receiver to volume up and down. Press and hold the volume button for 2 seconds to do next or previous track. (NEW FUNCTION)
Opt&Aux&Coaxial, Easy Setup
Plug into computer speakers, home stereo systems or other speaker systems via the 3. 5 mm, RCA, coaxial or optical cable, then pair the Bluetooth receiver with the Bluetooth audio devices such as smartphones or tablet.
Works With Voice Commands
Connect this 1Mii B06 Pro Bluetooth audio adapter to your stereo via a 3. 5 mm, RCA or optical cable, pair the Bluetooth receiver with your Echo via Bluetooth on the Alexa app, it is easy to control your music with voice commands.
Notice
Please use a 5V power supply! DO NOT use unmatched power sources (e.g., 9V /12V), which may lead to equipment failure!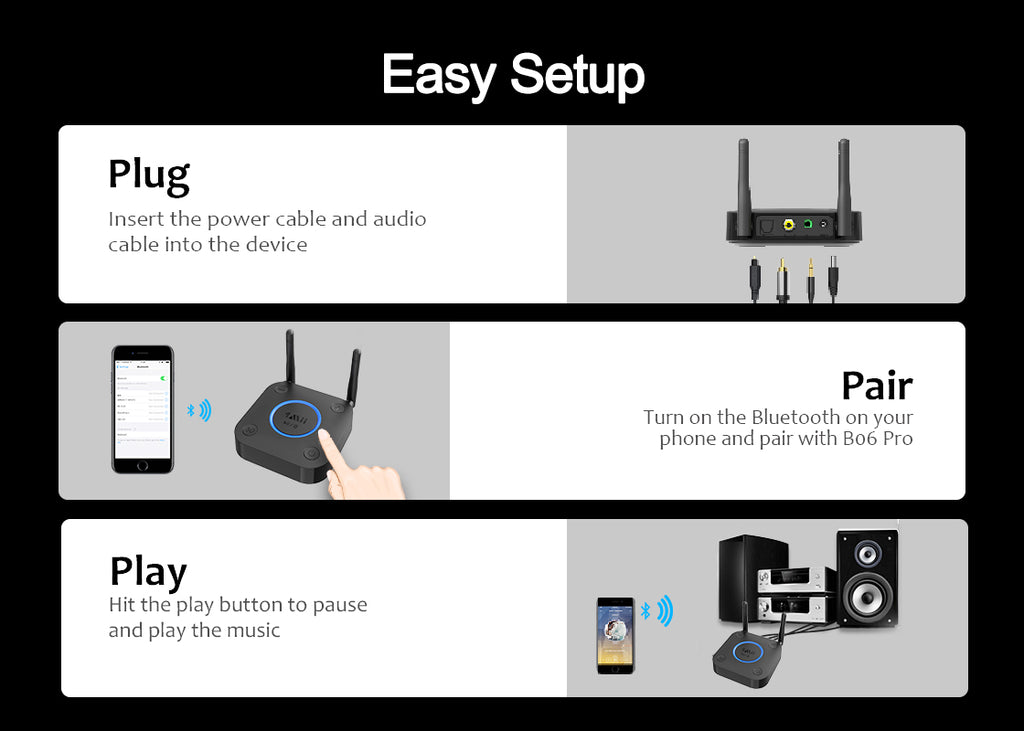 Close (esc)
NEWSLETTER
Enter Your Email address to sign up to receive our latest news and offers
Age verification
By clicking enter you are verifying that you are old enough to consume alcohol.